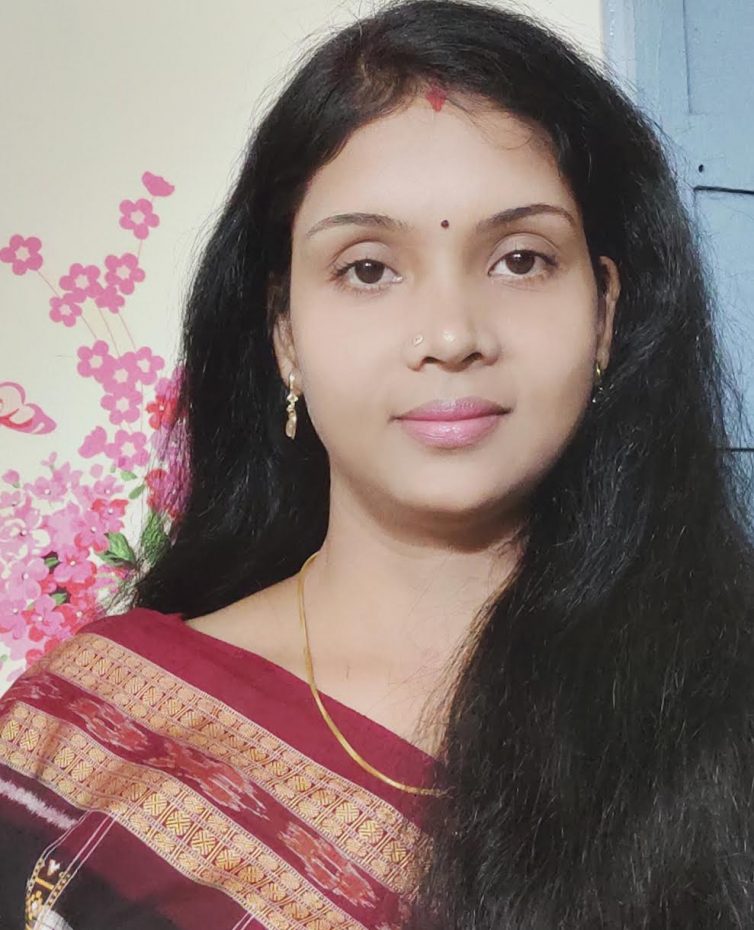 VOSAP is glad to bring you the story of Mrs. Jyotsna Rani Nanda, a homemaker who did not let her responsibilities suppress her passion.
Mrs. Jyotsna, hailing from the Rourkela district of Odisha, was one of the top 300 finalists in VOSAP's Art from Heart Competition. While talking to the VOSAP team she seemed joyful and was full of enthusiasm like a small child. Her cheerfulness is infectious and you cannot stop yourself from smiling when you hear her talk.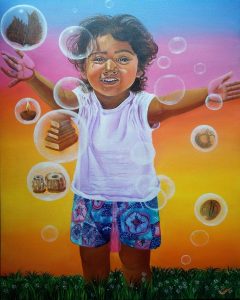 Jyotsna's enthusiasm towards life and her passion is what makes her different from the crowd. She was born and brought up in a small village of Odisha in a lower-middle-class family. She was attracted to painting from a very young age. She says she loved seeing her mother draw 'jhoti' during the Lakshmi Pooja in her childhood and that was her first inspiration to start drawing. [Jhoti is a floral pattern made on the floor, with rice powder mixed with water, to welcome the Goddess during Pooja. It is a tradition of Odisha which is similar to Kolam, Rangoli and Alpna made in different parts of India.]
Jyotsna wanted to get a teacher to refine her sketching and painting skills. Given her family conditions, she could not fulfill her desires. After marriage, she shifted to Rourkela with her husband Mr. Amit Kumar Nanda. A lot of females in her condition simply let their passion die. But, Jyotsna was different. She kept on searching for opportunities to get an instructor who could refine her skills.
She tells that when her daughter was around 6 years of age, she took her to an institute to enroll her in a drawing class. There she met a woman elder than her who too came to take drawing classes. Jyotsna did not give a second thought and enrolled herself with her daughter in the same institute. And, that was the beginning of her transformation into a valued artist. For Jyotsna painting is a passion and not a profession. Though she has made over 100 artworks she is not into generating commercial benefits from her skills. She finds happiness in creating her artwork and seeing them appreciated by others. She has tried various mediums but is most comfortable in acrylic painting. The themes of her artwork revolve around a social awareness message or children. With a motherly affection she says that children are her models, she loves painting them.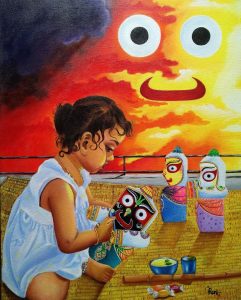 Cheerfully talking about the platform and recognition provided by VOSAP Art from Heart Contest, she says that it was way different from most of the contests held. She said VOSAP did a great job by recognizing the efforts and heart put by so many artists in making a painting for the contest. It was unlike the other contests where only top-3 contestants are given all the attention and recognition.
She was happy to see the VOSAP art gallery that displayed amazing artworks by artists of all ages hailing from different countries. She said the mesmerizing artworks of different artists were beyond her imagination. To connect with other artists she also participated in VOSAP Art from Heart Artist Network Connect, the virtual meet-up for the artists. She was particularly impressed by the specially-abled artists. She gave a very good message during the virtual meet-up by saying that "Specially Abled Persons are not Disabled; they do much more than we normally imagine and are capable to achieve even more when given proper opportunities".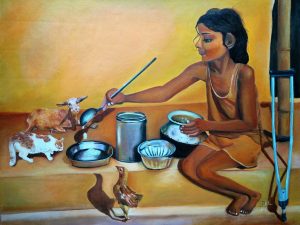 For the Art from Heart Competition, Jyotsna made a painting depicting Bhagwan Jagannath who has no limbs and ears. She says Bhagwan Jagannath has no ears but he listens to the prayers of all his devotees. It was certainly a great idea to invoke religious symbolism to remind that disability of any kind is just a difference and it does not make anyone less valuable.
Mrs. Jyotsna showed her interest in joining VOSAP as a volunteer and do whatever she could do to improve the life of Specially Abled Persons. We are looking forward to having her on board. VOSAP wishes Jyotsna all the happiness and cheerfulness in her life. We would love to feature more artists like her on our platform.