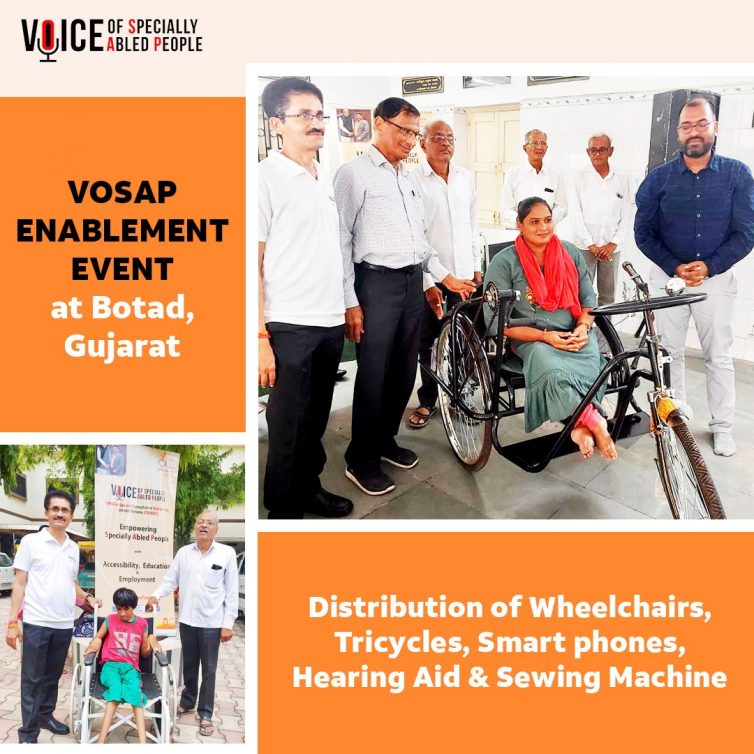 VOSAP celebrated our beloved Hon.PM Modiji's birthday by enabling Specially Abled People at Botad and Pune. We are very grateful for his support to the mission and his blessings over us that motivates us to enable and empower more and more Divyangjan.
On September 16, 44 SAP's in Botad were enabled with Assistive Devices such as Sewing Machine, Tricycle, Hearing Aid, wheelchair and Smartphones.
Hon. Prohibition Officer Vasantben Bagdaji joined the event as Chief Guest. Shri Kamlesh Chauhan, Director, Logic Rain company and our Donor joined the event as Guest of Honour. Rohitbhai Shah, VOSAP Advisor and Executive Team Members Ashish Deliwala, Kalpesh Shah also graced the event with their presence.
VOSAP Founder, Volunteers and Executive Team joined the event virtually from US. Volunteers from Ahmedabad also joined the event virtually and in person. VOSAP Founder Pranav Desai expressed How VOSAP, using digital tools is empowering SAPs. He also shared 'how the assistive device that he received while he was young changed his life and how it can empower SAPs and make them independent, making them taxpayers and contribute to the economy. The goal is to make them contribute for the betterment of themselves and other SAPs like them'
Dr. Bhushan Punaniji, General Secretary of Blind People's Association, Ahmedabad joined the event virtually and addressed the SAPs. Trustees of BPA, Shri Futarbhai, Ushaben, Sunitaben and ED, Nandini Rawal also joined virtually and appreciated this initiative.
Our Volunteers did all the task of identifying the beneficiaries, filling their applications online which were then evaluated and interviewed by VOSAP team to drive this technology based process even in rural parts of India. We are grateful to Bharatbhai(Blind People's Association), Sursangbhai(Ashirvaad Viklang Trust, Sayla) and all the volunteers who on ground helped to make this event a success.