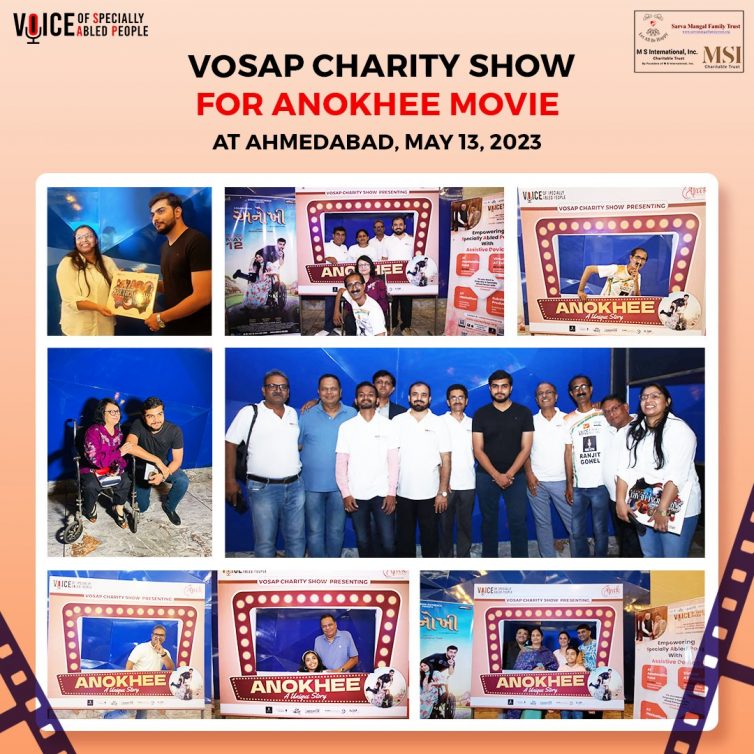 Voice of Specially Abled People(VOSAP), a US based non profit working towards inclusion and empowerment of Specially Abled People hosted VOSAP Charity Show of movie 'Anokhee – A Unique Story' at Ahmedabad on May 13,2023.
Various distinguished guests, Donors,supporters, partner organizations , Volunteers and Specially Abled People participated in this show and all enjoyed the power pack movie, full of emotions, fun and supported the inclusion spirit this movie holds.
The event was also joined by Lead Actor Arjav Trivedi, Producers and Director, Shri Vishal Bhatt, Shri Miral Shah and Shri Rakeshbhai.
VOSAP celebrates the spirit of inclusion the movie is portraying. Anokhee is a Unique love story of a girl in the wheelchair, a roller coaster ride of fun, laughter, emotions and a thought Provoking message. VOSAP believes that the power of cinema to touch hearts, change perceptions, can help build a more inclusive society and community and hence is a supporter of this movie.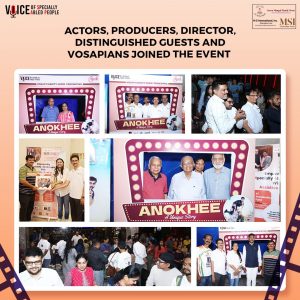 Arjav, the lead actor of movie Anokhee, has also been part of VOSAP Short film on 'Accessibility of Temples' that gives us strong message on importance of Accessibility at temple to promote inclusion and give Specially Abled People and Senior Citizens the right to accessible Darshanam at temple.
As unique as the love story of this movie is, we have several VOSAPians including our Founder himself and Volunteers who also have such Anokhee Love Stories where their spouses have no Disability and they took bold and brave decisions and married them.
The donations raised at this event will be used in helping, enabling Specially Abled People with Assistive Devices and Surgical Interventions. The donations will be matched by VOSAP's patron SMFT(Ahei Manu and Rika Shah). We thank them and all the donors for supporting the VOSAP mission.
VOSAP will have similar charity shows across the United States to raise awareness and donations in coming weeks.
The Volunteers, guests and people that were part of the event shared their Experiences and reviews of the movie: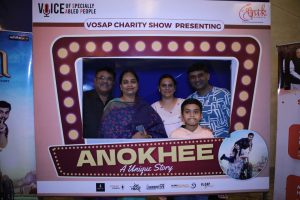 Mrs. Heena Shah:
"Anokhi" starring Rakesh Shah, directed by Arjav Trivedi, Bhumika Barot, Naksh Raj… a film about a spirited girl with incredible potential. A love story of a girl (special abled girl) who accidentally gets placed in a wheelchair just in the excitement of entering a new field of life – Anokhi (Bhumika Barot) is the story of a courageous, confident, loving and always smiling girl… Aryan (Arjav Trivedi) has a naughty and fun personality. The boy, who constantly inspires Anokhi, who always puts a smile on Anokhi's face… who has a one-sided love for Anokhi and sees his beloved in a wheelchair from time to time and waters the plantation of dreams in her life. The story of the film is very emotional and heart touching. The performances of all the actors were fantastic.
I got a chance to watch this movie because of our school friend Pranav. Knew about his work for 'special abled' persons, but everyone present yesterday got to know about his tireless work for this "VOSAP" (voice of – special abled people) from pass.. Our friend Pranav. Desai is a hero in real life. Proud to be a friend of such a hero. Thanks Pranav.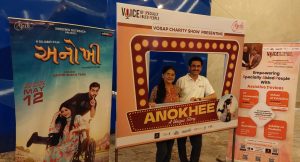 Ashish Deliwala:
The Anokhee movie event was wonderful. Everyone enjoyed it.
The movie is excellent.
It is giving message to society that:
1) Nobody can guarantee that he or she is permanently Abled this world.
2) True love is not an attraction of the physical body, But it is a bonding between souls.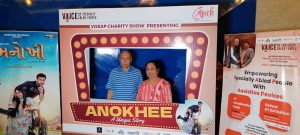 Ashok Shah:
Excellent Movie. The Story, the Direction, the selection of the entire cast is fine.The arrangements were nice in the theater and outside. We Enjoyed.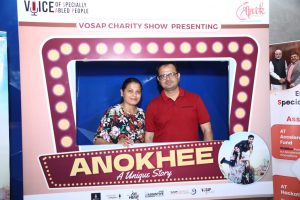 Amit Shah: Movie is good. The performances of lead actors are also nice. The story is very different. Overall, it was a very nice Experience.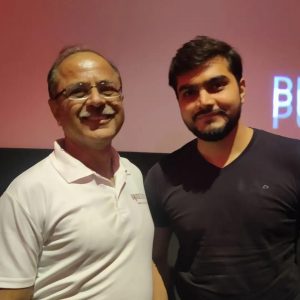 Atul Soni:A very nice movie and a wonderful show of VOSAPian strength and Commitment.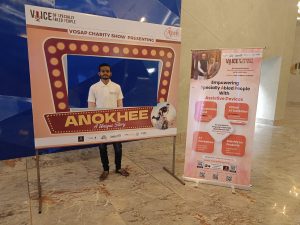 Dhruv Chavda:
The movie isn't boring, It has fun, laughter, comedy and also a great message for youth.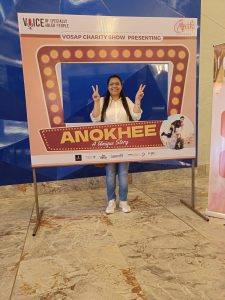 Niyati Shah:
The concept and storyline of this movie are truly one-of-a-kind, blending elements of amusement, sentimentality, and inspiration into a cohesive whole. The movie communicates the message that disability can strike at any moment, highlights the struggles and setbacks that accompany such a life-altering event. Additionally, it sends a powerful message to young people, emphasizing the inclusive nature of love and the importance of finding someone who loves you for who you are, beyond physical appearances.
This movie is a must watch for everyone especially the youth, with amazing performances of Lead Actor and Actress, the songs are soul stirring. Overall, the film is a thought-provoking experience that challenges viewers to approach life with a fresh perspective.