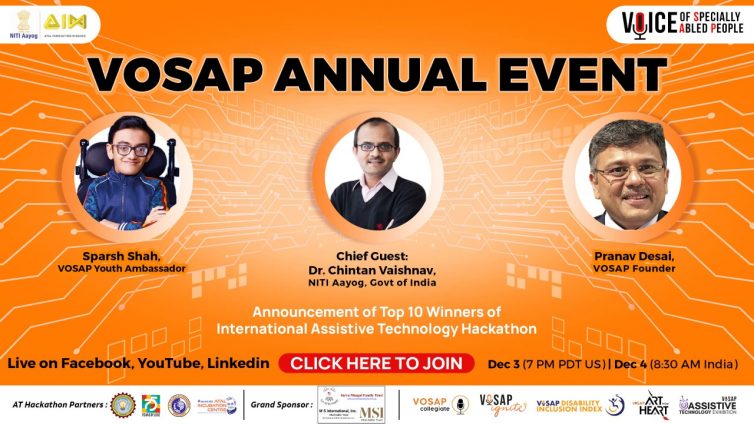 Voice of Specially Abled People (VOSAP), a US based leading not-for-profit organization in the disability sector observed its Annual Event on the 3rd of December, 2022 to celebrate UN's International Day of Persons with Disabilities. The live event was attended globally, virtually by 800+ Volunteers, Donors, and invited Guests from the US and India.
The live event had three segments– VOSAP'S 360 degree impact in the year 2022, Announcement of Top 10 Winners of International Assistive Technology Hackathon and Live Entertainment from India.
Dr. Chintan Vaishnav, Mission Director of NITI Aayog's Atal Innovation Mission (AIM), joined the annual event as the Chief Guest. Dr. Chintan Vaishnav was impressed with the compassion and nuances of the Top 10 innovators. He expressed his happiness about Voice of SAP and AIM collaboration in the AT Sector.
Mr. Pranav Desai, the Founder, presented updates for 2022 specifically the geographic spread of VOSAP Impact in 11 states of India and 1 state in the US. He expressed how VOSAP has changed lives of 14,500+ people so far and brought smiles to 75,000+ faces with its Advocacy, Enablement and various initiatives.
VOSAP Founder further mentioned how VOSAP is promoting Assistive Technology. VOSAP signed SoI with Atal Innovation Mission, NITI Aayog and MoU with other organizations. VOSAP launched AT Acceleration Fund to accelerate innovation and adoption of Assistive Devices to realize inclusion of SAP and contribute to India's Economic Expansion.
VOSAP Strategic Donors and Grand sponsors of the Annual Event, Founders of Sarva Mangal Family Trust, Shri Manubhai and Rikaben Shah, also joined the event, motivated the team, and expressed their satisfaction to learn about VOSAP's outstanding impact. They announced $:$ Matching Challenge of US $500,000 to support the goal of creating a $1 Million VOSAP AT Acceleration Fund.
VOSAP announced the Top 10 Winners of the International Assistive Technology Hackathon. The Winners showcased their innovations for improving the lives of people with different limitations including visual impairment, hearing impairment, locomotor and learning disabilities.
The event ended on High note with bollywood entertainment from Live Performance from Studio in India by Urmish and Vaishali Mehta.
Shri Manubhai Shah, SMFT, MSI, VOSAP Grand Sponsor and Donor
Shri Chintan Vaishnav, Mission Director, Atal Innovation Mission,NITI Aayog
6 Minutes Highlights of VOSAP Annual Event 2022
22 Minute Highlights of VOSAP Annual Event 2022
VOSAP Annual Event 2022- Full Video