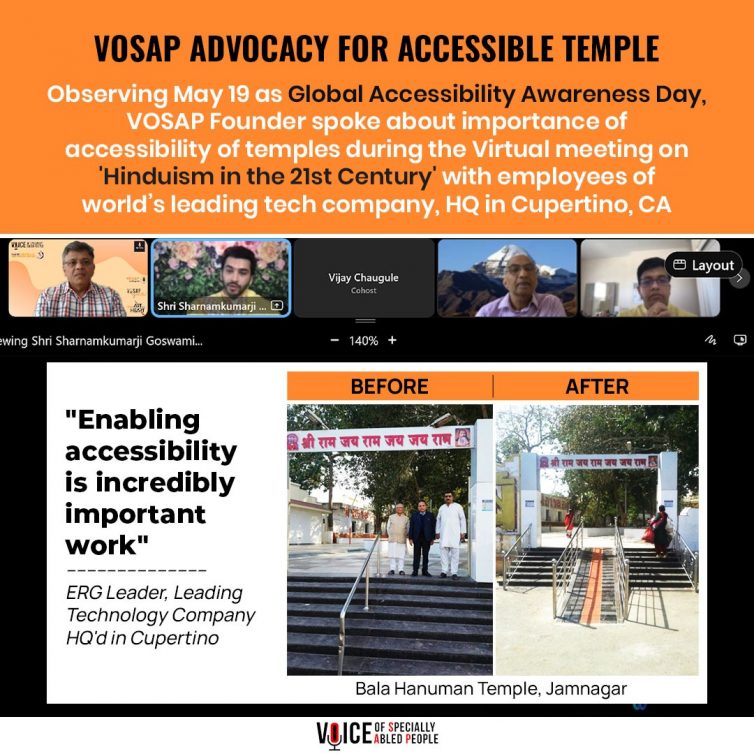 The 19th of May this year marked the 11th Global Accessibility Awareness Day (GAAD). Since 2012 the world is celebrating May as the month of awareness for accessibility and the third Thursday in May is observed as GAAD. Being the advocate of accessibility, VOSAP sees this month and the observation as a very important one.
Mr. Pranav Desai, the Founder of VOSAP, was invited to a virtual meeting with the world's leading tech company headquartered in Cupertino, CA, to talk about "Hinduism in the 21st century". He very well utilized the opportunity to attract people's attention to the inaccessibility of temples for Persons with Disabilities. He emphasized that 21st century Hinduism needs to be progressive, inclusive by enhancing the accessibility of the temples for senior citizens, Persons with disabilities and all.
Mr. Desai utilized the platform for talking about the basic principles of Hinduism that promote equality and inclusion. He underlined the fact that in today's time we cannot talk about equality and inclusion unless our temples feel equally welcoming to all including persons with disabilities. Hinduism is a religion that believes every individual (atman) to be a part of the supreme power (the Brahma). If we believe in the doctrines of Hinduism, we do not have the right to constrict someone's right to visit temples with our inaccessible infrastructure.
He emphasized the necessity to redesign our temples to allow unrestricted 'darshanam' to every devotee of God regardless of their physical condition. Hinduism is one of the most flexible religions in the world that has always embraced changes as and when required by society. The 21st-century society is based on dignified individuality and hence everybody needs the chance to visit temples without being dependent on others.
VOSAP as an organization believes in the collective efforts to make this world a more accessible and inclusive place. And hence its VOSAP mobile application provides a free tool for every individual to rate the accessibility of a public place, including a place of worship. The rating does not only help persons with disabilities to search for accessible places but also pin-points the premise where accessibility drive needs to be taken seriously. VOSAP volunteers work in communities, with trustees of temples to upgrade for wheel chair accessibility.
We invite, appeal, expect more and more people, employees of the world's leading tech company from Cupertino, CA to join hands for the cause of accessible and inclusive temples for all including persons with varying physical capabilities. Accessibility to temples is a right for every devotee regardless of their physical conditions. And, we all stand for that right!