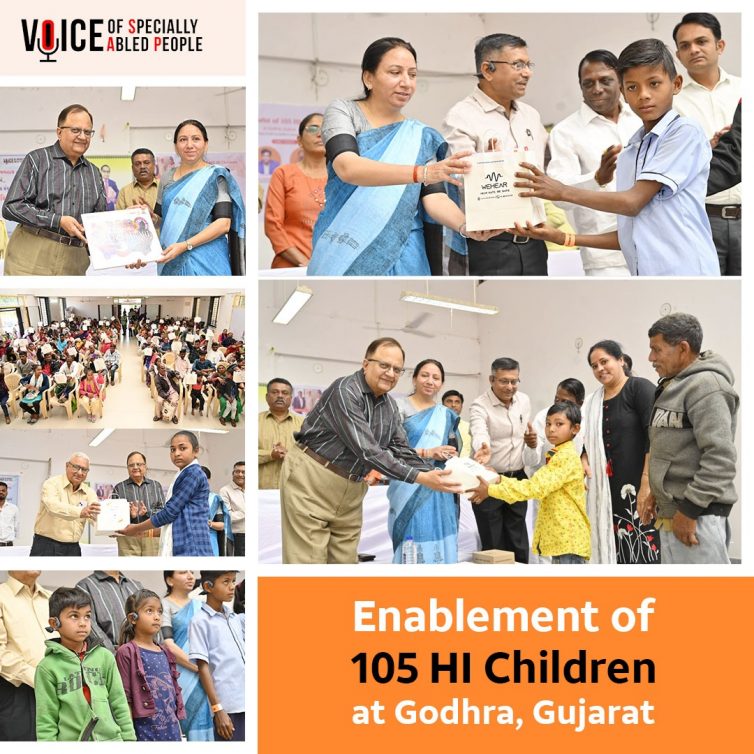 On Feb 17, 2023, VOSAP enabled 105 Specially Abled Children at Godhra with Hearing Aids and witnessed around 500+ happy faces of parents, special educators, beneficiaries, volunteers and invited guests.
The hearing device of VOSAP's Partner and AT Exhibitor, WeHear is helping hearing impaired children to listen and then speak with training provided to them as how to use device. This early intervention with hearing device will help these 106 children get their hearing ability and eliminates need for costly surgical interventions. To understand the detailed process, click here
The event started with a prayer by a visually impaired student and a performance of Hearing Impaired kids of Gandhi School. It was a very blissful moment. Check glimpse of the performance below: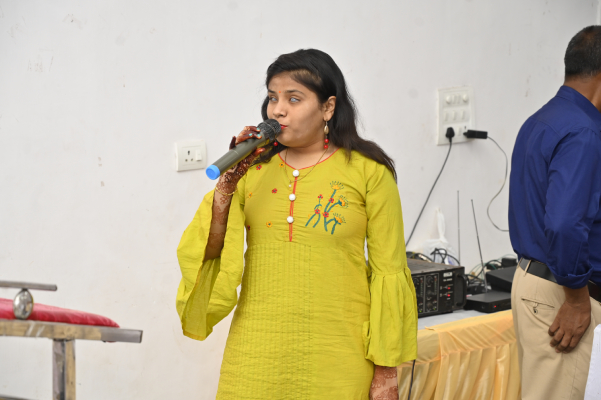 VOSAP Donor Shri Manoj Mehta joined the event as Chief Guest. Various Dignitaries such as DPEO of Panchmahal Shri Gayatriben Patel, IED Coordinator joined the event in person.
Shri Pranav Desai, Founder of Voice of SAP joined the event virtually and addressed the guests and the beneficiaries, parents present at the event. He shared and emphasised on three aspects and engaged in conversation with DPEO Shri Gayatriben Patel:
1) On being asked how many SAPs have received UDID for getting benefits of Govt Schemes, we learned from DPEO Madam that 80% SAPs in Godhra, Panchmahal have received UDIDs
2) Mr. Desai also emphasised on importance of accessibility and shared his views for accessible toilets in school for Children.
DPEO Madam shared that Common Toilets and toilets in schools have been made accessible and government has its focus on this. She further shared approx 60% schools have accessible toilets and all the new construction of buildings have this considered. The old buildings that are to be renovated have this accessibility detail considered.
3) VOSAP mobile App has 19,000+ places rated for accessibility. He also requested to upload accessibility data for accessibility of public places, court, Govt office, school. VOSAP Founder also expressed his intention to have MoU with Godhra Collector Office for accessibility, enablement with assistive devices, to empower SAPs.
DPEO Madam Shared that there are 3330 children with 21 different types of disabilities and there are Special educators for all these children at Block Resource Centres that take care of transportation, Disability certificates for kids and giving them assistive devices. Govt is doing camps from time to time to focus on this purpose, also skilling of children based on their abilities is done at Kaushalya Vardhan Kendra at school level for these children to empower them and make them independent in future.
VOSAP Donor Shri Manoj Mehta shared his thoughts "I cannot express the joy in mere words how I am feeling to be here and seeing how children are being helped" He added, "If we want to come forward in life and in society, we need help from so many people." We are all linked by a chain, and it makes me happy to see that everyone in the chain—from donors to volunteers to educators and government officials to innovators and organizations—is very skilled. The end result or impact will not be achieved if the components of this chain are insufficiently capable. As a result, I am very happy today and grateful to everyone. The children who are receiving the device and their parents are the most crucial links in this chain because the parents will ultimately be responsible for motivating, assisting, and instructing the children on how to use it correctly."
"The impact that the device will do in changing the lives, opening doors to new opportunities in future for this kids cannot be predicted right now. As I Believe, One day many of these children will come forward and give speech like I am doing today. I would like to congratulate everyone here for this."
The event had participation of 75 Special Educators of Godhra, VOSAP volunteers and team and WeHear team in person and VOSAP Volunteers and team from India and USA joined the event virtually.
The children and parents,special educators were also provided with training on how to use this customized device for each child effectively. VOSAP team and WeHear team would be following up from time to time with these beneficiaries and Parents to track the progress of these children.
We are thankful to WeHear Team, VOSAP team and volunteers who worked together to make this event a success.
Voice of Specially Abled People (VOSAP) has changed lives of 15,000+ SAPs and put smile on 75,000 faces so Far with its Initiative to Enable Specially Abled People with innovative Assistive Devices and Solutions, Surgical Interventions.